Grade Proportions: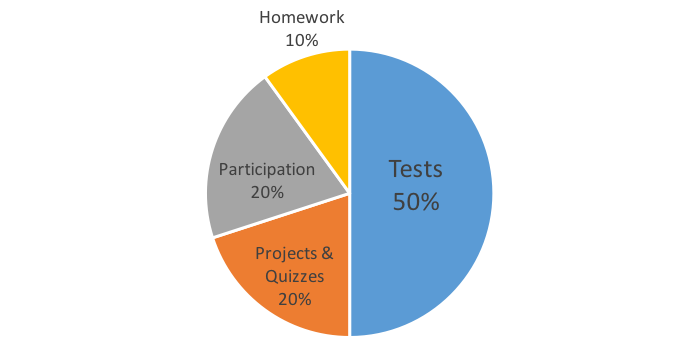 Grading Breakdown
Evaluation of your progress will be based on your performance on tests, projects, take-home quizzes, class participation, and homework.
Half of your grade will be based on tests. There are sixteen of these over the course of the school year. The remaining 25% of your grade is made up of points gained by doing homework, projects, and participating in class in a positive manner.
There will be two different types of projects given throughout the year. Projects which are given periodically and require analysis of data, written as well as oral discussion, and pertain to a specific topic being studied will count as a quiz grade. These will be somewhat brief and will not require an extensive class presentation. Larger projects requiring data collection or research, application of one or more statistical tests, and a classroom presentation will count at least one test grade and possibly more.
Other Grading Matters
Hand work must be completed using a pencil
All hand work (classwork, homework, quizzes, and tests; typically) must be completed using a pencil. Any work that is submitted in pen may be penalized 10%.